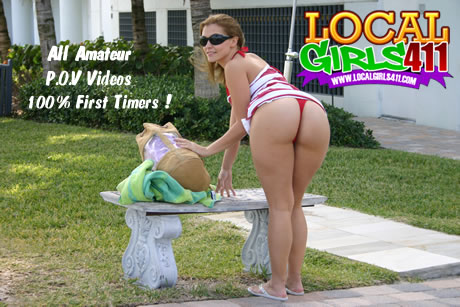 Host Are Banners or Image Galleries And

Earn 50% Commissions on All Referred Sales!
Our affiliate program is administered through CCBill, one of the largest and most reliable credit card processors on the Internet.
How much do I get paid?
When a customer clicks through from your site and purchases a membership, you earn a commission on the intial sale and on all monthly rebills from that sale. So, the amount you make depends on how much traffic you send. The Webmaster Resource Area contains marketing banners and other tools that can help you. Just be creative and we'll make sure that your hits turn into sales.
CCBill pays out weekly, so you get paid quickly.
Why should I sign up?
We know there are a lot of pay sites out there competing for your attention. We've worked hard to keep LocalGirls411.com from being another cookie-cutter adult site. Here are a few reasons why we're different:
--- Large preview area with lots of free pictures. Customers are much more likely to join when they know exactly what's inside.
--- Unique, high-quality content. All of our movies are originals filmed and mastered with high-end digital equipment for a superior, crisp picture.
--- The best amateur models on the Internet.
--- We add new material each week so customers stay interested and retain their memberships.
How do I get started?
It's simple. There are only two steps:
1. Click Here to create your affiliate account.
2. Click here to visit the Webmaster Resource Area. Follow the instructions to select a banner and to copy and paste a small amount of HTML code into your web page.




Terms of LocalGirls411.com
RESELLER RULES
ADVERTISEMENT AND PROMOTIONAL MATERIALS MODIFICATIONS POLICY
You may crop or modify our images .
You may not claim ownership to any of our site or materials.
Our site url's, logo's, on ALL Modified Advertisements and Promotionals material or title blocks must be present on any modified content.
No third party copyright, url, or title block is allowed on our content.
OUR CONTENT MAY ONLY BE USED TO PROMOTE OUR SITE.
You may not place banners or text links on ANY page that contains actual or simulated depictions of bestiality or child pornography.
You may not place our banners or link from pages which contain advertisements for bestiality or child pornography.
We will not partner with webmasters who break the law.
THESE POLICIES EXIST TO PROTECT OUR MEMBERS, OURSELVES AND ALL OF OUR VALUED AFFILIATES.
We reserve the right to terminate any accounts that are inactive for more than one month.
You must be of legal age for your local area in order to participate in this program.
These rules are subject to change at anytime without notice.
*Anyone breaking this policy will immediately be terminated from our Partnership Program. No exceptions! Any and all commissions owed will be considered void and no payout will be made.